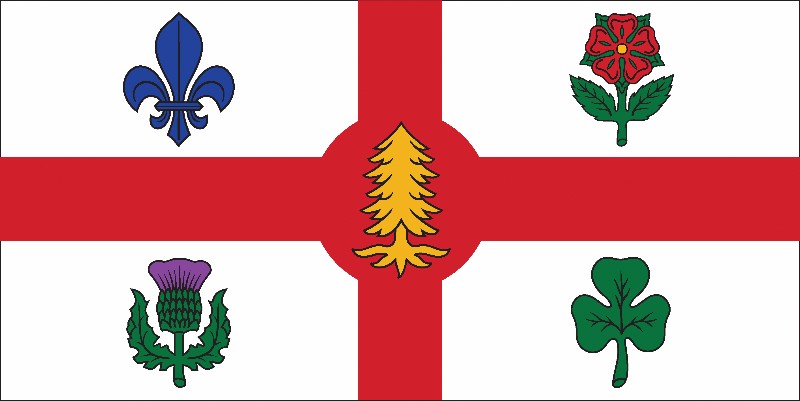 Montreal's new flag
I was listening to a Radio-Canada TV news show when I first heard about the new flag for the city of Montreal, redesigned to add a symbol for Indigenous peoples to the four existing symbols for the city's "founding" peoples.
A fleur-de-lys for the French, a rose for the English, a thistle for Scots, a shamrock for Irish and now, Radio-Canada announced:
White bread for Indigenous communities.
I glanced up at the TV screen in shock. White bread? Weren't the original symbols already as white bread as you can get?
The new symbol, I saw, looked more like a yellow feather duster than a loaf of Pom, and I gradually understood that the host had said "pin blanc," (white pine) not "pain blanc," (white bread).
The white pine, chosen by a committee that included representatives from the Mohawk, Anishinabe and Innu communities, symbolizes peace and recalls the Great Peace of Montreal, a 1701 treaty that ended hostilities between France and 39 different First Nations, said Mayor Denis Coderre. "The roots are thus very deep."
For Ghislain Picard, the chief of the Assembly of First Nations of Quebec and Labrador, "this symbol of the white pine is a representation of our unity at the core of a unifying circle and represents our cultures in this unceded First Nation territory."
And why a uniformly gold tree, rather than, I dunno, maybe a green tree with, say, a grey trunk and roots? Apparently, the importance of the symbol was meant to be underlined by choosing gold over more natural colours.
I don't know if they considered the irony of choosing a colour that also represents the driving force behind colonialism, capitalism and an extractivist economy that has been, and continues to be, at the root of the physical and cultural genocide and uprooting of Indigenous peoples around the world.
Just sayin'.
***
The addition of the golden pine to the city flag is, by very definition, symbolic. It doesn't resolve the little issue that Picard mentioned about "unceded" territory, i.e. the land that the thistles, roses, fleur-de-lys and shamrocks took and kept by force before and after the Great Peace.
It certainly doesn't resolve issues of systemic discrimination against Indigenous people in the city and beyond, the poverty of so many First Nations reserves or the lack of basic services like clean drinking water.
Admittedly, the city doesn't have a large role to play here, beyond working to eliminate discriminatory attitudes in its civil service, especially among police. How the social, health and justice systems deal with Indigenous peoples is largely Quebec's bailiwick, and Ottawa is of course responsible for the reserves, as well as working with the provinces and territories to settle First Nations land claims, most of which are unresolved after 40 years of negotiations.
What the city has agreed to do includes:
• Naming a commissioner for Indigenous peoples;
• Recognizing, in speeches by the mayor and city officials, that Montreal is located on unceded traditional Indigenous territory;
• Designating June 21 as Montreal Indigenous Peoples' Day, supporting Indigenous cultural events, and acknowledging First Nations contributions through the naming of public sites, such as Outremont's rebaptized Tiohtià:ke Otsira'kéhne Park on Mount Royal.
***
And in a long overdue step (just in time for the upcoming municipal election!), Coderre announced that Amherst Street will no longer honour the British general who is best known for supporting an early form of biological warfare by advocating the distribution of smallpox-infested blankets to Odawa indians with whom the British were fighting near Pittsburgh in 1763. (Some historians cast doubt on whether Amherst actually carried out the threat, but one detailed examination of military correspondence of the time concluded "the letters provided here remove all doubt about the validity of the stories about Lord Jeff and germ warfare.")
The letters also make clear that Amherst hated his aboriginal enemies, calling them "vermin" and in a letter to Colonel Henry Bouquet wrote "that you would do well to try to inoculate the Indians by means of Blankets as well as to try Every other method that can serve to Extirpate this Execrable Race."
Erasing Amherst's name from Google Maps does not, of course, erase him from the history books, as critics of the move suggest. It just takes him off a prominent public pedestal, which are in such short supply these days that even former premier Robert Bourassa only managed to get part of a street named after him. Maintaining an important downtown street in Amherst's honour is the historical equivalent of paying tribute to Fritz Haber, the German Jewish scientist who pioneered a viable method for mass-producing ammonia-based fertilizer, but who also weaponized mustard gas to kill allied troops in the First World War.
Other opponents of renaming the street also argue that Amherst should be judged in the context of his times. There are no mitigating circumstances, however, for what, even in 1763, many would recognize was a key British general advocating crimes against humanity.
***
Symbols like these are important, but only if the will to change goes beyond adding a golden tree to the city flag or removing a genocidal general from city cartography. The city can and should do a lot more to improve the lot of the 20,000 Indigenous people living here, but it should also play a much greater role in advocating for the recognition of their rights with both the Quebec and Canadian governments.
If we don't demand real changes, then perhaps "pain blanc" would actually have been a better choice to represent modern Montreal. ■
Peter Wheeland is a Montreal journalist. His sardonic observations about the city and province appear on Cult MTL every week. You can contact him by Email or follow him on Twitter.