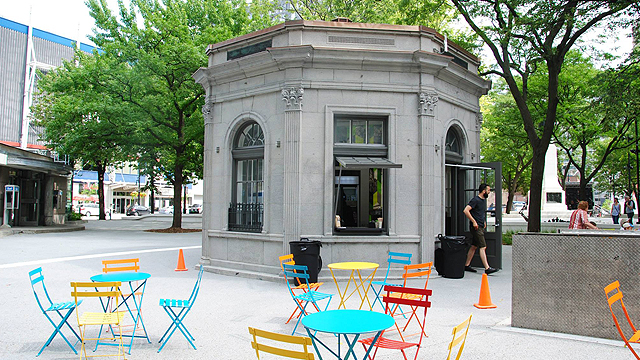 The Roundhouse Café, Montreal's sole representative of Indigenous food, is a two-year-old project that's seen wavering numbers since its inception. Sprung from a partnership between the Ville-Marie borough and the magazine/outreach group L'Itinéraire, it's a small coffee shop carved from what was a public restroom gazebo in John Cabot Square, a downtown area that became infamous for its stiltedly large number of homeless Indigenous. It has since grown as a bridge between disadvantaged population and the public, shifting stereotypes by offering employment — the café is still solely operated by the Indigenous community while overseen by L'Itinéraire.
This year marks the last of the partnership, and it's all the more important that this place keeps running with that socially inclusive initiative in mind (as opposed to a privatized venture), all the while staying visible in the public eye until it finishes for the summer season on Oct. 20.
This brings George Lenser (Foxy, Joe Beef) into the picture. The B.C.-born chef who's been cooking for 10 years, Lenser has been popping up in the media lately for elevating the visibility of Indigenous culinary culture here in Montreal. Now he's teamed up with Roundhouse to unveil a new menu for the café, which is happening this afternoon. I caught up with Lenser to talk about this new project a few days beforehand.
J.P. Karwacki: What's going on with Roundhouse?
George Lenser: They're struggling because a lot of people don't know it's there. They wanted to revamp their menu and they asked me to help out. It's a difficult project and it's a really small kitchen; they only have a plug-in oven and none of them are professionally trained cooks. So how could I make good food with those kinds of resources? It's going to be very simple food, no full course meal or anything fancy. Some food critics are asking "What cultures are going to be represented in the meal?" And I wonder if they've even visited the place.
JPK: It's amazing alone that they've set up shop, right? Doubly so for doing Indigenous food. They're the only spot on the island making bannock.
GL: Yeah, and I'm keeping that on the menu. I'm changing it a little bit, but it's super simple and a lot of people love it, and they need to make money… It's just funny, people think because my name is attached to it that it'll be some full course meal and critics will check it out, saying, "Oh wow, he's representing Joe Beef," but not really.
This is just me fucking around, trying to help out a small café. Hopefully this will boost their sales and they can get more equipment, but to fit anything else in there… you just can't.
I think the staff fears change a little bit and it's an adventure on its own. I'm trying to help them accept that things need to change, and I'm trying to help them along with that change. We'll see how it goes.
JPK: How much will you have to prep off-site?
GL: Oh for sure. For the event, I have to. L'Itineraire has a prep kitchen that has a lot of space, so I'm going to have to do the prep there.
JPK: So what do you want to add to the menu? Anything like the pan-Indian dishes you've worked on before?
GL: Not too much. I didn't change a lot, but I am adding a salmon sandwich I did at the First Nations Festival that happened (earlier this month). It's super simple, pretty much mayo and salmon and onions with seasoning. It's just something that would be in a lot of West Coast Native kids' lunches — that's to show my grandmother that her food's on the menu. I'm keeping their Indian taco, but I'm making it a little more Mexican, really trying to take the white man out of it by getting rid of the (prepackaged taco seasoning). I'm putting the bannock madeleines that I did at the Indigenous knowledge-sharing project in June. This time I'm going to do it more sweet, a little more fruity and nutty.
JPK: How did you make the connection with them anyway?
GL: I knew about them, but I didn't know that much. After going on CBC radio and a bunch of other media, they kept asking me was, "We noticed there were no Indigenous restaurants in all of Montreal. Why is that? Where can we find that? Will you open one?" I'd tell them there's only one place I know, and that's the Roundhouse Café, and I didn't know much about them. I'd tell them to go check it out, help them grow. RHC was happy that I kept name-dropping them, and they invited me to play with the menu. So I said yes, and I'm doing it for free.
…This whole thing is about me advertising them, and trying to get their name out there. They're the only representation of our people. Also, I just didn't want to cook for rich people that much, just to get a break and cook for regular people. I started cooking out at Grouse Mountain, but at the same time I was volunteer cooking for less unfortunate families for the Salvation Army. Having not grown up in a wealthy family at all, it's always been a part of me to cook simple food and to try and make it affordable. ■
Mangeons Autochtone | Eat Indigenous avec George Lenser is happening at Roundhouse Café in Montreal (2330 Ste-Catherine W.) today, Tuesday, Aug. 15, 2:30 p.m. to 4 p.m.
To read our latest coverage of the Montreal restaurant scene, please also visit the Food & Drink section.
To read the latest issue of Cult MTL, click here.
To vote for your favourite Montreal people and things in the Best of MTL reader's poll, please do so here.