Godfrey
With political correctness on the upswing against the world's current political climate, what better time than now to see a group of foul-mouthed comedians go up against it? This week saw the commencement of Just for Laughs fan-favourite series The Nasty Show, an 18+ event that's far from being "mature."
From the joys of having a black penis (Godfrey), having sex with a black penis (Yamaneika Saunders), to insecurities surrounding a lack of a black penis (Ari Shaffir and Big Jay Oakerson), The Nasty Show has it all. Much like its sister series, The Ethnic Show, the line-up simply never flops. An endless stream of insanity flows throughout Metropolis for the entirety of the evening, the term "off limits" seemingly foreign to the comics on the bill.
The series is hosted by "The Amazing Racist" himself, Ari Shaffir, a man whose past antics include offering driving lessons to Asian-only students, and taking unsuspecting, undocumented Mexicans to an immigration office. Shaffir, a former Orthodox Jew, thoroughly maintains his shock-value methods throughout the show, opening with the theory that God caused the flooding of the world as depicted in Noah's Ark as a punishment for the world's anal sex craze.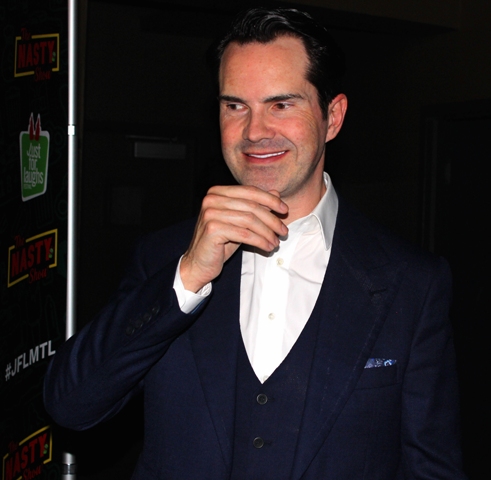 Taking on hosting responsibilities meant Shaffir would be filling the shoes of Quebec's nastiest, Mike Ward. Shaffir's humour generally proves to be more clever, though he fails to capture the same charisma Ward delivers with his hometown audience.
Jimmy Carr, arguably the only big-name talent on the bill, supplied a set of strictly zingers, supplying fun facts about Montreal only to downplay every one of them with a vicious punchline. Jokes about the late "pedophile" René Angélil were surprisingly plentiful, perhaps the only moment of disapproval seen by the (seemingly Celine- loving) audience throughout the entire evening.
Despite the lack of big names (the 2015 edition had Artie Lang and Gilbert Gottfried), The Nasty Show still provides delightfully twisted big laughs from an array of talent. A series like this is perfect for any first date, if your goal is to show your crush just how depraved you truly are. ■
The Nasty Show continues at Metropolis (59 Ste-Catherine E.) through July 29, $49.99–$60.49