St-Viateur Bagel Shop. Photo by Lisa Sproull

Montreal is bagel city, and as Montrealers prove year after year with their patronage and their votes in the Best of MTL readers poll, there is no bagel better known and respected than the golden sesame rings produced by St-Viateur Bagel, a Mile End staple since 1957.
Tomorrow, one of the co-owners of the renowned bagel shops and cafés, Vince Morena, will speak at YES Montreal's entrepreneurship conference. He'll be providing a different point of view from the average successful businessman, given that St-Viateur Bagel is a family business acquired by his father Joe Morena after the death of his partner (the shop's founder) Myer Lewkowicz, in 1994. Rather than running with the conference's theme, "the aha moment," Vince Morena will be presenting a thorough history of the company and highlighting the little moments that have built the St-Viateur Bagel brand.
"It's more of a longevity tale," says Morena, who, like his father, started rolling bagels in his early teens. "Myer Lewkowicz never had dreams to expand — he was a success. He was a Holocaust survivor, he had a bagel shop, he had food on the table and a roof over his head, and that was enough success for him. My dad was a different story: he was much younger, he had three young sons and when he took over in '94, that was the catalyst to expand."
The expansion in question was the opening of the St-Viateur Bagel cafés, but Morena and his brothers have now decided to shift gears once again.
"We're getting away from the restaurant business and getting back to basics," he says, noting that the cafés on Monkland and Mont-Royal will remain. "The West Island location was stripped down, and we're opening a plant in Laval — 90 per cent of production there is going to be sold to other provinces, but we're opening a little shop 'cause there's always demand. It's going to be an old-school bagel shop: walk in, buy your bagels and leave.
"We're focusing on the wholesale market, which is a different game. We're coming from a small family business and now we're getting into bed with the larger companies like Loblaws and Sobey's. When they make a deal, it's not for five stores, it's for 200 stores. That's the type of business we're going after."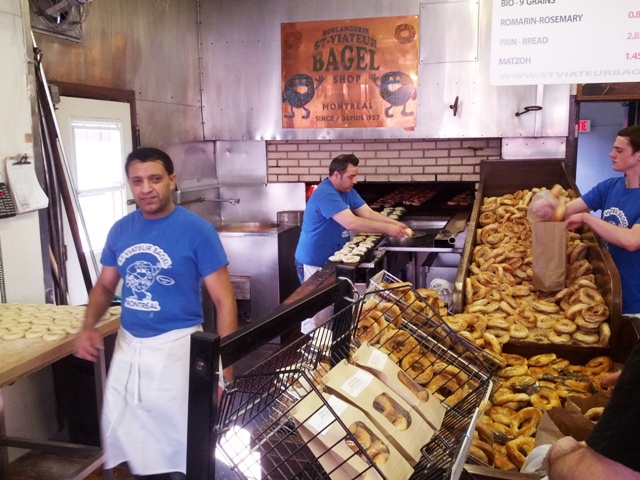 The staff at work. Photo by Lorraine Carpenter

What Montreal loves about St-Viateur bagels is the consistent quality of the product, especially when it's fresh from their shops at 158 and 263 St-Viateur W. Although new locations have come (and are coming) to adjoin their offshore plants, Morena suggests that serious franchising and streamlining will never happen.
"I don't think we could ever open 50 stores — it's not in our DNA," he says. "There's always been pressure to streamline and automate, but in the end, because we've stayed the same, because we haven't changed, it's become a competitive advantage.
"It really comes down to pride and loving what we do," says Morena, reflecting on what makes St. Viateur Montreal's best bagel. "The recipe's not a secret; there's no magic dust. We're kind of like a fish restaurant that's busy — they're gonna have fresher fish. We've always worked 24 hours so our ovens are always hot, and there's a kind of heat that radiates out of our ovens that won't radiate from an oven that's not as busy, so it'll get that golden brown texture onto our bagels.
"We also have a lot of long-term employees that have been with us 10, 20, 30 years that pass on the traditions properly to the next generation of employees. They're the first ones to point out, 'Hey, you're not making that bagel right,' 'The bagels are too big,' 'The bagels are too small,' 'The oven's too hot,' 'The oven's too cold.' There's no gages. You might go to an automated bakery where there's 50 gages, from temperature to weight to humidity, but there are no gages in our shop. Everything is by hand, touch, feel and eyes. Those are the traditions that have to be passed on by our staff that we've had for a long time. There's a corporate culture of pride around what we produce." ■

Vince Morena speaks at the YES Montreal Entrepreneurship Conference at Centre Mont-Royal (2200 Mansfield) on Wednesday, May 20, 3:30–9 p.m., $49.95.