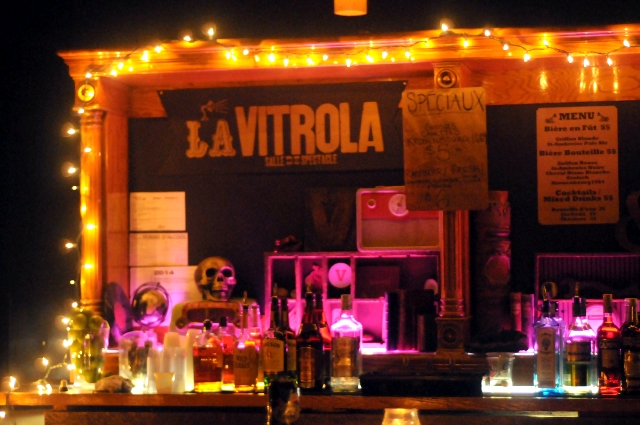 La Vitrola. Photos by Cindy Lopez

Last night, a new music venue opened its doors at 4602 St-Laurent Blvd. The space, located above Spanish social club/restaurant Centro Gallego and formerly occupied by multidisciplinary art bar la Elastica, was acquired as recently as three weeks ago by the owners of Casa del Popolo and la Sala Rossa.
"Trial by fire," says proprietor Mauro Pezzente. "We were looking for more space in June for [the Suoni per il Popolo festival] because of some other events that we needed a room for, and we wanted to keep it in the neighbourhood."
The space has a legal capacity of 271 but can easily be curtained off to accommodate 135 people, for smaller shows. It's got all the right permits (for a bar and salle de spectacle) as well as a full PA system and loaded bar. Its ceiling is the same height as that of Casa, two feet lower than Sala's, which makes it feel a lot smaller than the latter despite being 500 square feet larger.
And it's called la Vitrola.
Pezzente and his wife/co-proprietor Kiva Stimac wanted a Spanish name, to reflect its affiliation with Gallego and their other venues, one that works well in both of Montreal's official languages.
"We also wanted it to somehow be connected to music and," Pezzente says. "Vitrola is the same word as victrola, a phonograph, and Kiva liked the idea of being able to use that imagery for signs and for the website.
"We also looked into the history of the building, and from 1920 to 1924 it was a record store: the Starr Phonograph Company."
Some of la Vitrola's upcoming events include the Knife afterparty hosted by Cousins on April 26, an album launch by Eric Goulet (ex-les Chiens) on May 24, a show by Gulfer on June 14 and Donovan Wolfington with Ovlov, No Bones and Bummer on June 27. Keep an eye on our concert listings to find out about upcoming shows at la Vitrola, beginning next weekend.
Last night, la Vitrola hosted its very first event, the launch of issue 10 of Editorial Magazine, with live music and DJs on hand. See photos here: